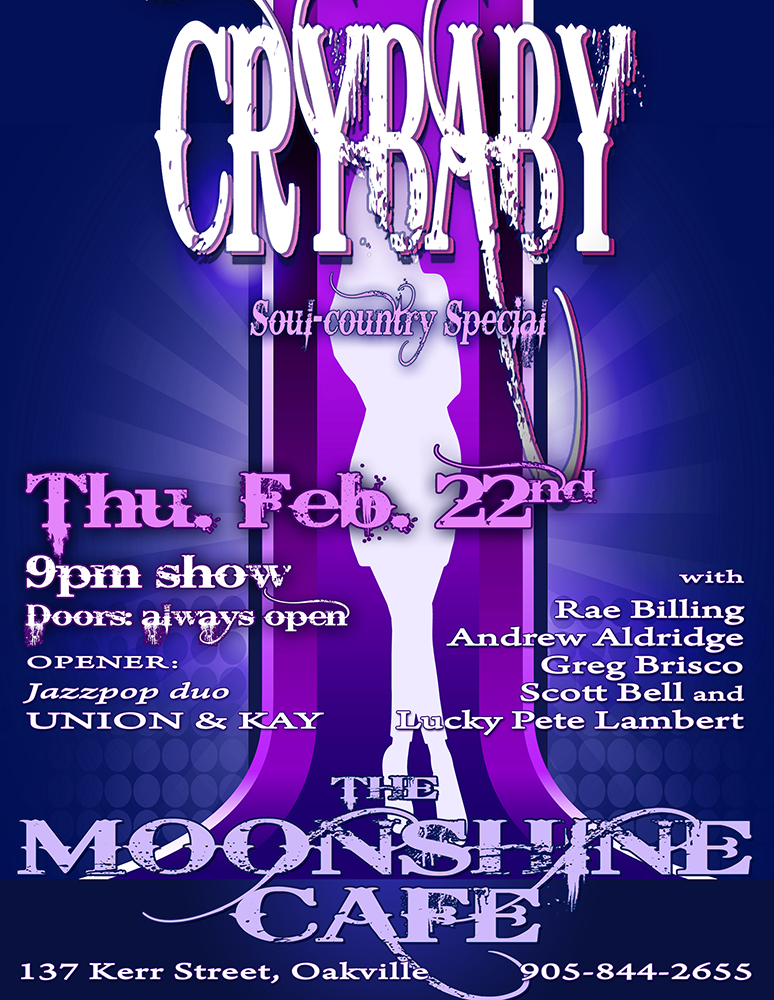 THURSDAY, FEBRUARY 22nd
CRYBABY at
THE MOONSHINE
137 Kerr Street
Oakville Ontario
Early Show
Show starts 9:00pm
905-844-2655

Pleased to be playing this Oakville music venue with the Crybaby band.

Band members are Rae Billing on vocals and acoustic guitar, Andrew Aldridge on guitar, Greg Brisco on keys, Scott Bell on bass and Lucky Pete Lambert on drums.

Playing songs from the newly released album, "Still". OPENER: Splendid Jazzpop duo UNION and KAY


---
SATURDAY, APRIL 14th
CRYBABY at
THE PEARL COMPANY
16 Steven Street
Hamilton Ontario
Early Show
Doors Open 7:30 • Show starts 8:00pm
905-524-0606

Celebrating our fourth year of spring shows at the unique Pearl Company venue. Show includes the full Crybaby band.

Band members are Rae Billing on vocals and acoustic guitar, Andrew Aldridge on guitar, Steve Koch on guitar, Greg Brisco on keys, Scott Bell on bass and Lucky Pete Lambert on drums


---
RECENT CONCERTS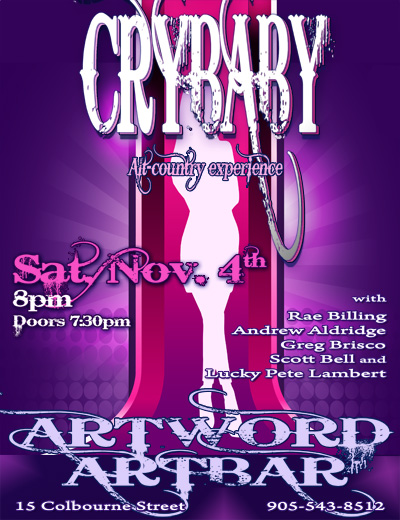 SATURDAY, NOVEMBER 4th
CRYBABY at
THE ARTWORD ARTBAR
15 Colbourne Street
Hamilton Ontario
Early Show
Doors open 7:30pm • Show starts 8:00pm
905-543-8512

Pleased to be playing this local small-but-iconic venue with the full Crybaby band.

Band members are Rae Billing on vocals and acoustic guitar, Andrew Aldridge on guitar, Steve Koch on guitar, Greg Brisco on keys, Scott Bell on bass and Lucky Pete Lambert on drums

OPENER: Splendid Jazzpop duo UNION and KAY


---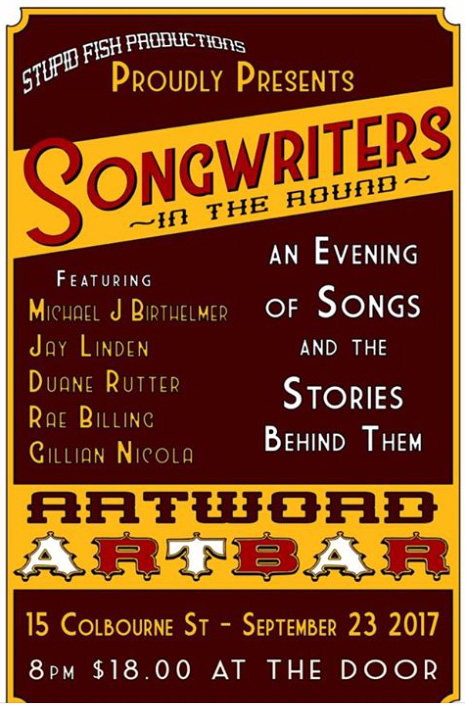 SATURDAY, SEPTEMBER 23rd
SONGWRITER'S IN THE ROUND at
THE ARTWORD ARTBAR
15 Colbourne Street
Hamilton Ontario
Early Show
Doors open 7:30pm • Show starts 8:00pm
905-543-8512

A terrific roster of songcrafters will be sharing songs and stories. Line-up includes host Duane Rutter, Michael Birthelmer, Rae Billing, Gillian Nicola and Jay Linden.


---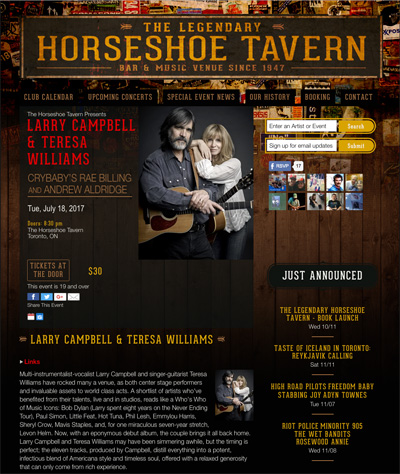 TUESDAY, JULY 18th 2017
RAE BILLING & ANDREW ALDRIDGE at
THE HORSESHOE TAVERN opening for
LARRY CAMPBELL & TERESA WILLIAMS
370 Queen St. West
Toronto Ontario
Early Show
Doors open 8:30pm • Show starts 9:00pm
905-522-1409

Multi-instrumentalist-vocalist Larry Campbell and singer-guitarist Teresa Williams have rocked many a venue, as both center stage performers and invaluable assets to world class acts. A shortlist of artists who've benefited from their talents, live and in studios, reads like a Who's Who of Music Icons: Bob Dylan (Larry spent eight years on the Never Ending Tour), Paul Simon, Little Feat, Hot Tuna, Phil Lesh, Emmylou Harris, Sheryl Crow, Mavis Staples, and, for one miraculous seven-year stretch, Levon Helm. Now, with an eponymous debut album, the couple brings it all back home.

Crybaby's Rae Billing and Andrew Aldridge will be opening the show at 9:00 pm.


---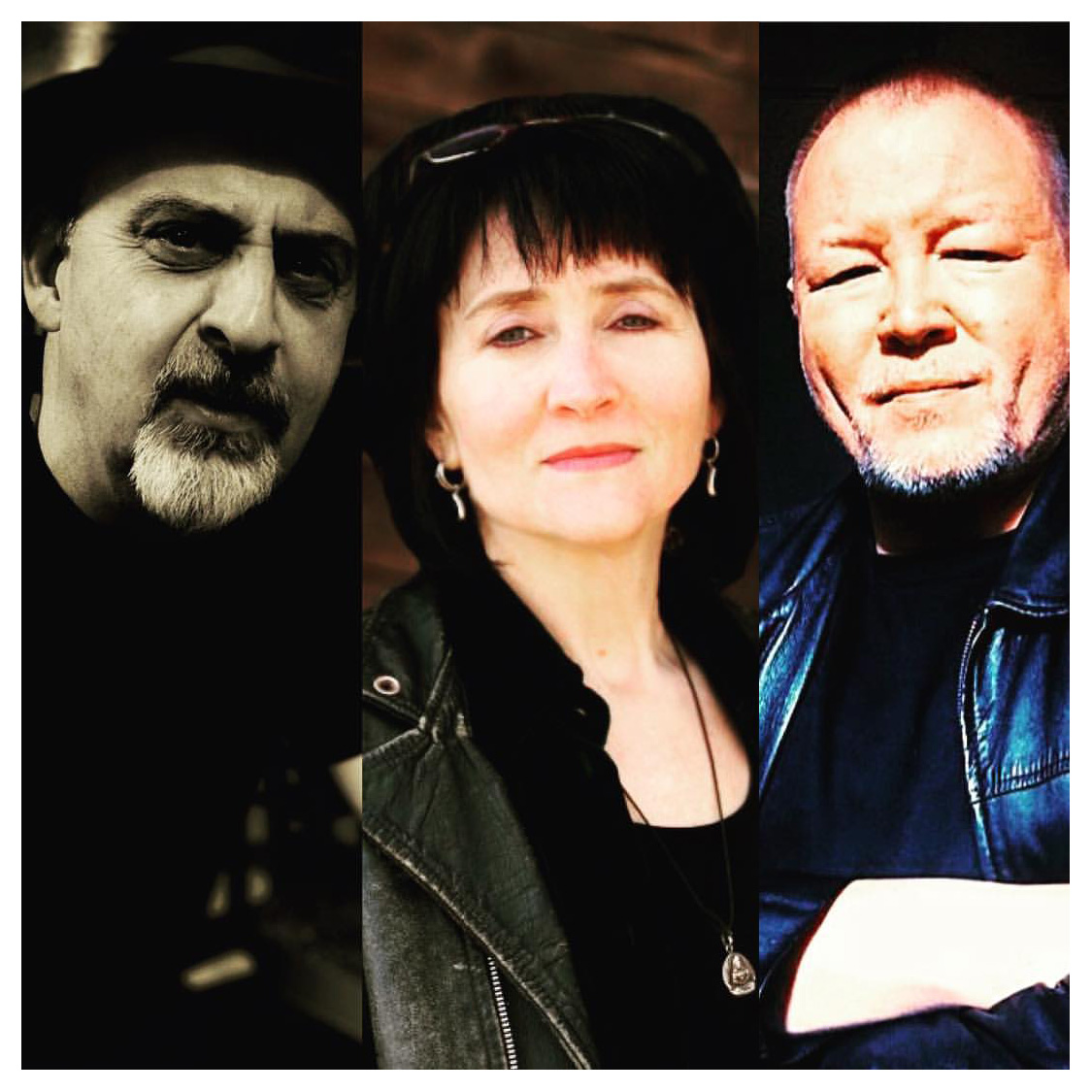 SATURDAY, JULY 15th 2017
RAE BILLING at
THE PINE STREET STUDIO
GARDEN CONCERT
8 Pine Street
Hamilton Ontario
Early Show
Doors open 7:30pm • Show starts 8:00pm
905-522-1409

Michael Birthelmer's Pine Street Studios plays host to another Garden Concert of Singer/Songwriters with Michael Birthelmer (owner of Pine Street and one of the City's most unique and praised songwriters plus the fabulous songsmith Duane Rutter and alt-country singer/songwriter Rae Billing.

This will be a great night but Mike's shows are often packed so you might want to make a reservation by calling Pine Street Studio at 905-522-1409!


---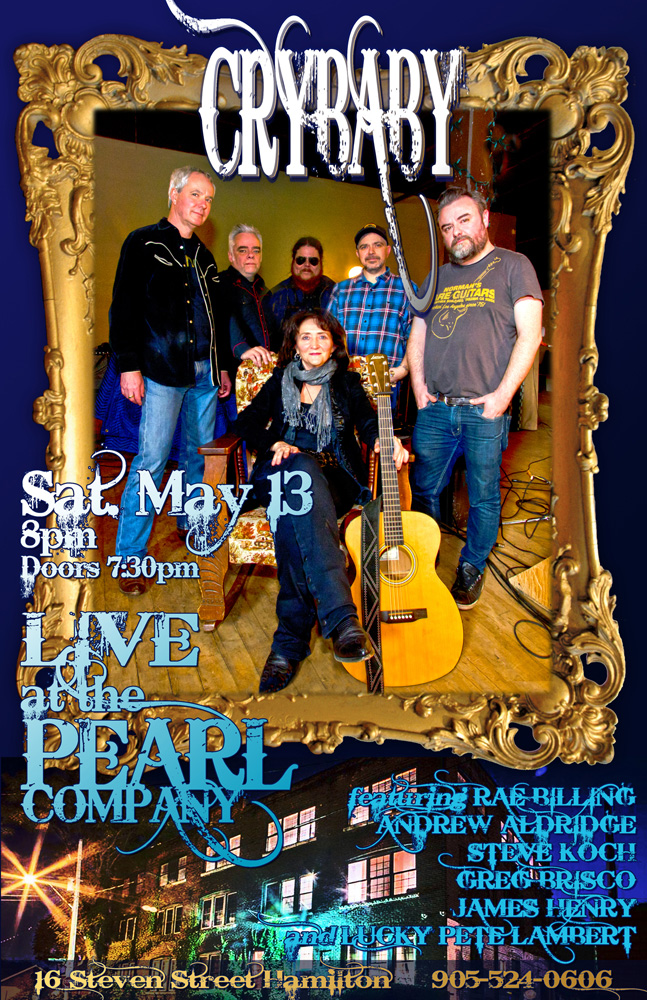 SATURDAY, MAY 13th 2017
CRYBABY at
THE PEARL COMPANY
16 Stephen Street
Hamilton Ontario
Early Show
Doors open 7:30pm • Show starts 8:00pm
905-524-0606

After reuniting Crybaby for two 20 year anniversary shows, the group decided to create a Crybaby album together. Working on Summer 2017 release.

Band members are Rae Billing on vocals and acoustic guitar, Andrew Aldridge on guitar, Steve Koch on guitar, Greg Brisco on keys, James Henry on bass and Lucky Pete Lambert on drums.

.


---
SUNDAY, DEC . 4th 2016
CRYBABY at
THE CASBAH LOUNGE
306 King St. West
HAMILTON Ontario
SPECIAL GUEST: MATTY SIMPSON
Early Show
Doors open 8:00pm • Show starts 9:00pm
416-536-7717

Crybaby's 20 Year Anniversary show at the Cadillac Lounge in Toronto.

Band members are Rae Billing on vocals and acoustic guitar, Andrew Aldridge on guitar, Steve Koch on guitar, Greg Brisco on keys, James Henry on bass and Lucky Pete Lambert on drums



---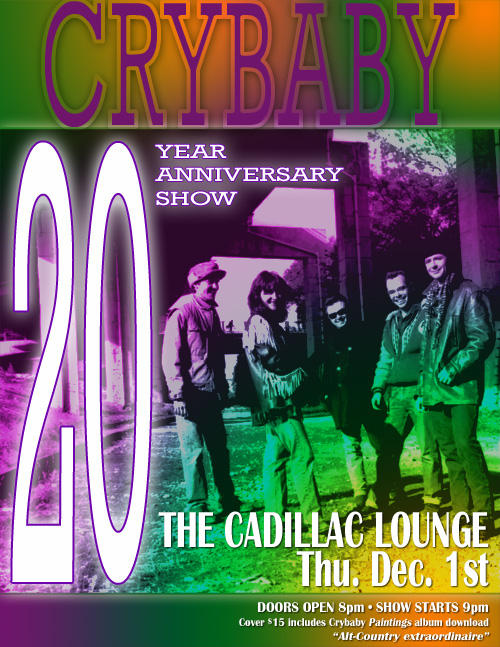 THURSDAY, DEC . 1st 2016
CRYBABY at
THE CADILLAC LOUNGE
1296 Queen St. West
Toronto Ontario
SPECIAL GUEST: MICHAEL VALELLY
Early Show
Doors open 8:00pm • Show starts 9:00pm
416-536-7717

Crybaby's 20 Year Anniversary show at the Casbah Lounge in Hamilton.

Band members are Rae Billing on vocals and acoustic guitar, Andrew Aldridge on guitar, Steve Koch on guitar, Greg Brisco on keys, James Henry on bass and Lucky Pete Lambert on drums



---