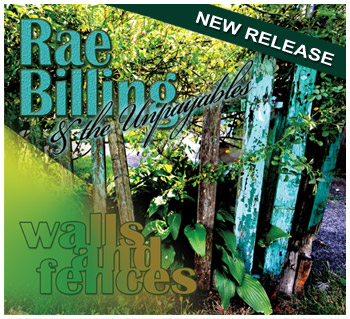 HAMILTON BLUE'S LOVERS
New Rae Billing & The Unpayables CD:
Walls and Fences
Jan 19, 2014


It's been about five years since local songstress extraordinaire Rae Billing released a CD. The long silence has now been broken with Walls and Fences (through HUG-MUSIC). It's well worth the wait!
With her character-filled, one of a kind voice and incredible lyrics, Rae weaves a unique, rootsy, alt-country atmosphere. Occasionally dark and sometimes deeply personal, Walls and Fences is an album of substance worth exploring.
This is also her first solo CD to be recorded in Hamilton and it features some amazing Hammertown musical residents. Billed as the Unpayables, Rae's band includes Andrew Aldridge (guitar), Matt Coleman of Fry Truck (violin/fiddle), Michael Hickey of Trickbag (bass), Ed Roth (accordion/organ), Nick Burson (drums), Michael J. Birthelmer (piano/guitars/producer), and Wayne Krawchuk (backup vocals).
The disc is available at her live shows and can be purchased through the HUG-MUSIC site or cdbaby. You can also download it through cdbaby or iTunes.