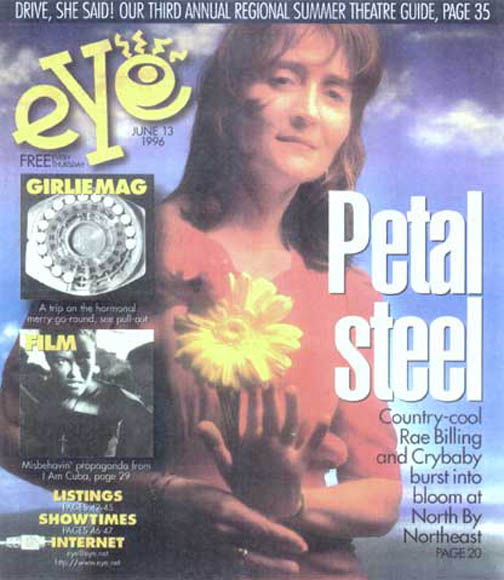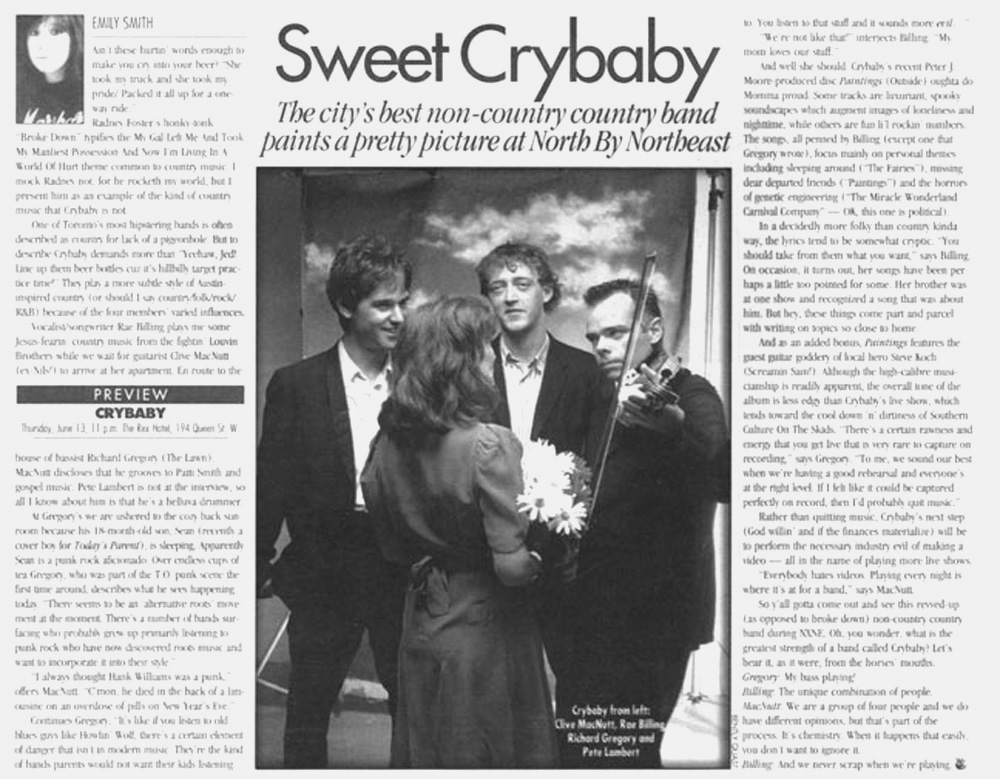 EYE Magazine Cover Article
by Emily Smith
"Ain't these hurtin' words enough to make you cry into your beer? "She took my truck and she took my pride/Packed it all up fora one-way ride."
Radney Foster's honky-tonk "Broke Down" typifies the My Gal Left Me And Took My Manliest Possesion And Now I'm Living In A World of Hurt theme common to country music. I mock Radney not, for he rocketh my world, but I present him as an example of the kind of country music that Crybaby is not.
One of Toronto's most hipstering bands is often described as country for lack of a pigeonhole. But to describe Crybaby demands more than "Yeehaw, Jed! Line up them beer bottles cuz it's hillbilly target practice time!" They play a more subtle style of Austin-inspired country (or should I say country/folk/rock/R&B) because fo the four members' varied influences."
Crybaby's recent Peter J. Moore-produced disc Paintings (Outside) oughta do Momma proud. Some tracks are luxuriant, spooky soundscapes which augment images of loneliness and nighttime, while others are fun li'l rockin' numbers. The songs, all penned by Billing (except one that Gregory wrote), focus mainly on personal themes including sleeping around ("The Fairies"), missing dear departed friends ("Paintings") and the horrors of genetic engineering ("The Miracle Wonderland Carnival Company" - OK, this one is political).
In a decidedly more folky than country kinda way, the lyrics tend to be somewhat cryptic. "You should take from them what you want," says Billing. On occasion, it turns out, her songs have been perhaps a little too pointed for some. Her brother was at one show and recognized a song that was about him. But hey, these things come part and parcel with writing on topics so close to home.
And as an added bonus, Paintings features the guest guitar goddery of local hero Steve Koch (Screamin Sam!). Although the high-calibre musicianship is readily apparent, the overall tone of the album is less edgy than Crybaby's live show, which tends toward the cool down 'n' dirtiness of Southern Culture On The Skids. "There's a certain rawness and energy that you get live that is very rare to capture on recording," says Gregory. "To me, we sound our best when we're having a good rehearsal and everyone's at the right level. If I felt like it could be captured perfectly on record, then I'd probably quit music."